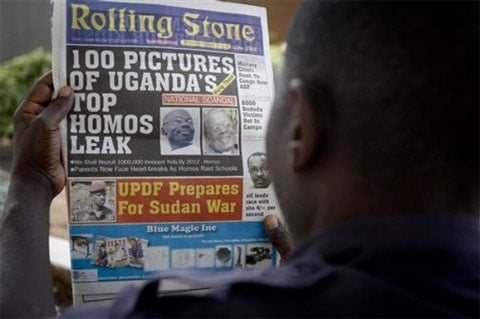 You may recall that back in October a Ugandan tabloid called Rolling Stone published the names of "100 Top Homos" and called for them to be hanged. The article led to harassment and assaults for some of those named.
The newspaper was taken to court by a group of plaintiffs representing the victims, and today the court ruled in their favor, according to a report from Afrik News…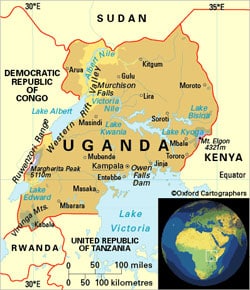 The court has also issued a parmanent injunction against Rolling Stone newspaper never to publish photos of gays in Uganda, and also never to again publish their home addreses.
Justice Kibuuka Musoke's ruling read in parts: "Gays are also entitled to their rights. This court has found that there was infringment of some people's confidential rights. The court hereby issues an injuction restraining Rolling Stone newspaper from future publishing of identifcations of homosexuals."
Sexual Minorities Uganda (SMUG) program coordinator Pepe Julian Onziema told the press after the ruling that they are happy because the court had ruled in their favor.
A man who identified himself as gay, Balae Ogole, said gay people "can now trust our courts because they have come up with a very appropriate judgment."
Meanwhile, pro-gay groups are organizing parties in different parts of the country to celebrate the court decision, which they claim lays a solid foundation for human rights.
And while this report from Afrik News mentions the long-in-limbo 'Kill the Gays' bill as having been dismissed from parliament, Rachel Maddow's recent interview with the bill's author David Bahati suggested that the bill was still very much alive.
There's little doubt that this ruling will reignite debate about homosexuality in that country and we'll hear some news on the status of that bill very soon.
Previously…
Ugandan Tabloid Outs '100 Top Homos', Calls for Their Hanging [tr]