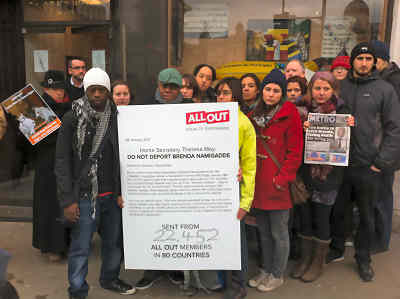 UPDATE: Brenda Namigadde wins temporary reprieve.
I've mentioned Brenda Namigadde and the petition calling on the UK to stop her deportation to Uganda a couple times over the past few days. It was delivered with more than 40,000 signatures to UK Home Secretary Theresa May today. You can still sign it.
Melanie Nathan at Lez Get Real has the latest:
Today is Brenda Namigadde's removal day. She is booked for Entebbe, Uganda via Nairobi, Kenya at 21.20 hrs on Flight VS671 (Virgin) and then KQ412 (Kenya Airways). The UK Border Agency should respond today to the fresh claim for asylum put in by her solicitor on Monday. This may happen at the last moment   But, the Home Secretary, Theresa May MP, does have the power to stop the removal.
Brenda is the lesbian who has been denied asylum in the UK, having been put into a fast track system and hastily disposed of. It was sheer luck that she did not make last Friday's removal flight, as her name was muddled with someone else. It was then that LezGetReal heard about her case and together with Paul Canning of LGBT Asylum News set in motion an extraordinary set of events and activism that has now placed Brenda Namigadde's face on the front cover the UK and Global Press – today, the  very morning of her rescheduled removal.
The petition is here if you have not signed it.
More on Brenda's story at The Guardian and the BBC.
Apparently UK Home Secretary May's office is being deluged.
The situation for gays and lesbians in Ugandan, as you know, is very dangerous, and the situation for Brenda particularly grave as David Bahati, author of the "kill the gays" bill, has taken a special interest in her case.
Brenda fears for her life.