Says Interscope artist Sabrina of her new track 'I Wanna Shoot Lady Gaga':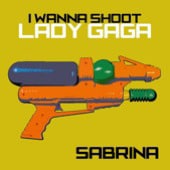 "I want to kill everything she represents and stands for. I read in Forbes that Lady Gaga is one of the most powerful and influential people in the world…that thought turns my stomach. To think about how someone who is so morally bankrupt, who lacks integrity and gives slutty a whole new meaning, could hold such a position of influence is sickening….Lady Gaga represents everything that is wrong with the core of our society. She's not a lady, she's a tramp. People see her as such a hero, especially the gay community; they celebrate her. She stands up there in her flesh suit and cries big old elephant tears and thanks her dear fans for being so brave, but what they don't realize is that everything she does is calculated. I feel like she uses them…So yes, I wanna shoot Lady Gaga. I'm telling you now, she needs to keep an eye out for me. I'll be walking up on the red carpet with a lil' pocket squirt gun filled with holy water and I'm gonna soak her from head to toe. Indeed."
Sabrina then goes on to use Gaga's verses in her own track.
(via ontd)