A transgender woman has been murdered in Minneapolis. It's the city's first homicide this year: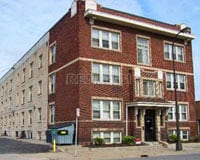 Police say the victim, who had not been officially identified pending notification of relatives, was found after a caretaker at the building at 1302 Linden Av. discovered the body and called 911. The caretaker entered the apartment after a worried relative called to check on the resident's well-being. Police said the victim had possible stab wounds.
Chrissie Bates, a transgender woman living northeast of the Basilica of St. Mary in downtown Minneapolis, is the city's first homicide victim this year. Formerly known as Christopher Bates, Chrissie was found dead Monday in an apartment at 1302 Linden Ave. Police have not officially identified Bates, but Timothy Bates–a neighbor who shares Chrissie's last name but is not related–named her.
A family member asked the building management to check on Chrissie, according to Minneapolis Police. Chrissie was found on the floor with what appeared to be stab wounds, and the police were called in.
***
Timothy Bates says that Chrissie had mentioned that she had recently been sexually assaulted, and that her apartment window was broken. When she complained, management told her she would have to pay for the window herself, Bates says. "She told me that she was concerned for her safety," Bates says. "Management said, that's really not our problem, call the police."
Minnesota LGBT news site The Colu.mn adds that a vigil is planned:
"OutFront Minnesota's Anti-Violence Program Director Rebecca Waggoner said they don't have many details at this point but that they are setting up a vigil on Jan. 21 at 6 pm in Bates' neighborhood which is near MCTC. A firm location will be set over the next few days."