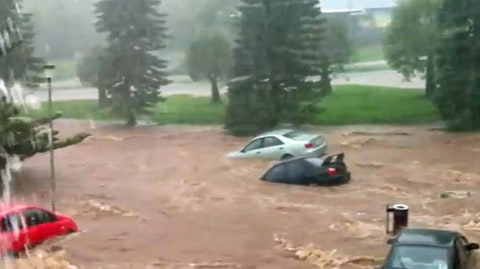 The Toowoomba and Lockyer Valley regions in Queensland, Australia have been hit by an unprecedented flooding disaster, triggered by rainstorms that unleashed what many have referred to as an 'inland tsunami' which washed away everything in its path. At least 10 are dead and 78 missing.
"The water was literally leaping, six or 10 feet into the air, through creeks and over bridges and into parks," Kowald, a 53-year-old musician, told The Associated Press on Tuesday. "There was nowhere to escape, even if there had been warnings. There was just a sea of water about a kilometer (half a mile) wide."
Portions of Brisbane, Australia's third-largest city, are being evacuated. Because shelters are sometimes not welcoming to LGBT people and couples, Australia's QNews has organized a billeting program.
Here's a clip that's been going around of an entire parking lot of cars being swept away down a swollen creek.
Watch, AFTER THE JUMP…
Flood relief here.
Here's a news clip: