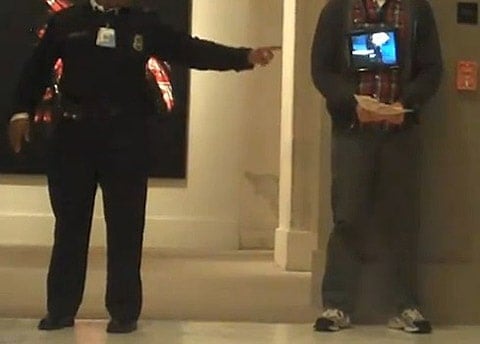 Michael Blasenstein and Michael Iacovone who were ejected and 'banned for life' from the Smithsonian for protesting the censorship of a David Wojnarowicz video piece from the Hide/Seek exhibit on gay portraiture at the National Portrait Gallery, aren't giving up.
And this time they have permits, Washington City Paper reports: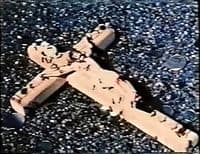 Blasenstein and Iacovone will park a trailer they describe as a "Museum of Censored Art" on the 700 block of F Street NW, in two parking spaces outside the southern entrance of the museum. Starting next Thursday, Blasenstein and Iacovone (and volunteers) will man the trailer from 11 a.m. to 7 p.m. every day until the exhibit closes on Feb. 13.
"The goal of course is to hold the Smithsonian accountable," says Blasenstein. "If this gallery on their doorstep doesn't convince them to do the right thing and restore the video, then the only other way we can think of to hold the Smithsonian accountable is to call for [Secretary of the Smithsonian Institution] Wayne Clough to answer for his actions in a public forum."
Inside the trailer, they will screen David Wojnarowicz's "A Fire in My Belly," which Sec. Clough had removed from a National Portrait Gallery exhibit on GLBT portraiture last month following pressure from conservative political activist organizations.
Blasenstein and Iacovone are holding a fundraiser in D.C. on January 11 to help pay for the costs of the 'Museum of Censored Art', which will also tell the story of how and why Wojnarowicz' art piece, a tribute to his lover who died from AIDS, was removed from the show.
Find out details of the fundraiser HERE.
They also have a website — check it out HERE.