Police in Bahrain, a country that imprisons and deports homosexuals, has arrested 127 gay men at a "depraved and decadent" party.
The Gulf News reports: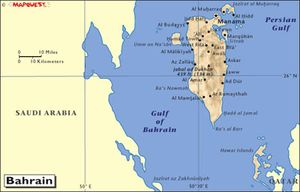 "The revellers hired a sports hall in Hidd, a conservative village on Muharraq island in the north of Bahrain, and organised on Wednesday evening a fee-paying party that brought together gay men from the Arabian Gulf countries.
Most of the gays were between 18 and 30 years old and one Lebanese and one Syrian were among those arrested following the police bust, Al Ayam daily reported on Friday. Neighbours, complaining about the late night noises emanating from the sports hall in the traditional fishing village, had alerted the police who sent a patrol to verify the claims at around 2.30am."
"An undercover agent paid the 20 dinar entrance fee and was allowed into the hall where he saw dozens of cross-dressers drinking and smoking shishas. More patrols were called in and 127 people were arrested in the police swoop, the daily said.
Initial investigations have revealed that the gays were either Gulf nationals who came to Bahrain for the party or were living in Bahrain and flocked to the hall in Hidd. The organisers are being held separately."
Update: According to at least one report, the party was actually a wedding for two of the men arrested.
This, of course, hardly isn't the first time gays have been targeting in Bahrain. Back in 2008, there were reports of a crackdown aimed at "dangerous" gays in that country and just last year nine "crossdressers" were imprisoned for public debauchery.