Shia LaBeouf allegedly punched a man at Mad Bull's Tavern in LA after being called an anti-gay slur. Mark Mastro, the man attacked by LaBeouf, says he had wanted a picture of the movie star but he refused. Mastro explained to Radar Online what ahppened after that.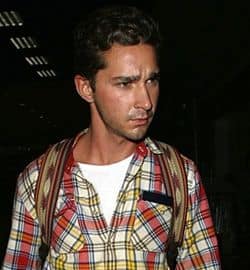 "'My friend said, 'what's up Shia'?' Mastro says. 'Shia told him to  'get the f**k  out of my way.'  He was slurring his words. 'That's when I said to my buddy, 'don't worry, he's just a f**cking fagot anyway',' Mastro says."
"'He turned around, cursed me out, and I started laughing.' Mastro explains that the actor then jumped in his black truck which was parked directly in front of Mad Bull's."
"'All of a sudden, he jumped out, and ran back towards the bar.  He charged at me! I jumped over the patio fence onto the sidewalk to get away from him. But he kept coming after me. 'He was getting in my face.  He was talking sh*t. He was chest-bumping me.'"
"That's when the bouncer jumped in, Mastro says. 'A bouncer put Shia in a head lock.'"
Police were on the scene within minutes and LaBeouf was handcuffed but were released shortly afterward.
Radar has video (barey watchable shaky, slanted video) of LaBeouf being handcuffed.