The White House today announced that Jeremy Bernard has been appointed Social Secretary and Special Assistant to the President. Bernard is the first man to hold the position.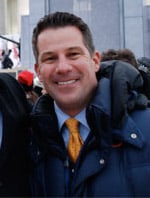 Bernard is currently serving as Senior Advisor to the Ambassador at the U.S. Embassy in Paris, and prior to that served as White House Liaison to the National Endowment for the Humanities.
Said President Obama: "Jeremy shares our vision for the White House as the People's House, one that celebrates our history and culture in dynamic and inclusive ways. We look forward to Jeremy continuing to showcase America's arts and culture to our nation and the world through the many events at the White House."
Said Bernard in a statement: "I am deeply humbled to join the White House staff as Social Secretary and support President Obama and the First Lady in this role. I have long admired the arts and education programs that have become hallmarks of the Obama White House and I am eager to continue these efforts in the years ahead."
On January 28, the NYT speculated whether a man could possibly take over the position of Social Secretary for the first time, after the announcement of the departure of Julianna Smoot to help run Obama's reelection campaign.
Bernard was a California Finance Consultant for the Obama for American campaign.  Appointed by President Clinton, Bernard also served on the President's Advisory Committee on the Arts for the John F. Kennedy Center for the Performing Arts and was a member of the Democratic National Committee from 2001 to 2009.  He previously served as a board member of A.N.G.L.E. (Access Now for Gay & Lesbian Equality) and the National Gay & Lesbian Victory Fund.  He was also a member of the Los Angeles County Sheriff's LGBT Advisory Committee, the Los Angeles Police LGBT Advisory Committee and the Los Angeles Mayor's LGBT Advisory Committee.