The Hawaii Senate has passed the civil union bill 18-5. Governor Neil Abercrombie has indicated he will sign the bill, which passed the House last week.
Said Abercrombie in a statement following the vote: "I have always believed that civil unions respect our diversity, protect people's privacy, and reinforce our core values of equality and aloha."
The Hawaii Senate took its final step in clearing the way to grant same-sex couples virtually the same rights and privileges of traditional marriage, giving approval today to a bill legalizing civil unions.
Senate Bill 232 was approved by a 18-5 vote.
It now goes to Gov. Neil Abercrombie, who supports civil unions and has promised to sign the bill into law.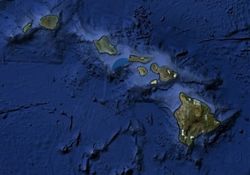 "Today is a momentous day," said Sen. Clayton Hee. "There is no denying that by this action Hawaii takes a significant step towards true equality."
Hawaii becomes the seventh state to grant civil unions to same-sex couples without authorizing marriage itself. Five states and Washington, D.C., permit same-sex marriage.
Watch video of the Senate vote passing the bill, AFTER THE JUMP…
(thanks to igor volsky at wonk room for the clip)