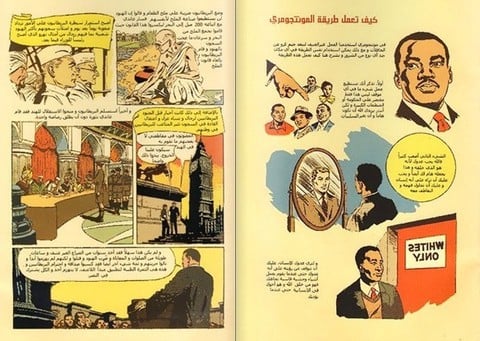 Pundits and press have noted the peaceful atmosphere surrounding Egypt's revolution and the subsequent
resignation of President Hosni Mubarak
. While the events of the past two weeks will be debated for years to come, the American Islamic Congress, a non-profit group founded after September 11th, are citing a recently translated comic book about Martin Luther King Jr.'s non-violent philosophy as a potential factor in Egypt's civil disobedience.
Comics Alliance elaborates:
The AIC's HAMSA initiative – designed to link civil rights groups throughout the Middle East — undertook in 2008 a project to translate The Montgomery Story into Arabic (and later Farsi). With the endorsement of [publisher] the Fellowship of Reconciliation, [AIC Egypt director Dalia] Ziada distributed 2,000 copies of the comic throughout the Middle East.
Ziada distributed even more copies during the revolution in Egypt, and told AIC members in a newsletter, "Last week I distributed copies in Tahrir Square. Seeing the scene in the square firsthand is amazing. Despite violent attacks and tanks in the street, young people from all walks of life are coming together, organizing food and medical care, and offering a living model of free civil society in action."
The original, American book, called The Montgomery Story, about the bus boycotts, was published in 1955, 56 years ago. A true hero, whether comic or real, never goes out of style.