An excellent piece from Equality Matters' Kerry Eleveld on life after 'Don't Ask, Don't Tell', and how the military is refusing to acknowledge a need for explicit anti-discrimination protections for gay and lesbian service members: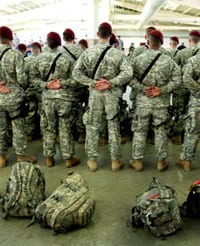 President Barack Obama and Defense Department officials are preparing to provide lesbian and gay service members the space to serve openly without risking expulsion while simultaneously affording them absolutely no legally enforceable anti-discrimination protections once they are visible.
Sure, they may not be at risk for being discharged after implementation, but they will have no means of sustainable legal recourse if they are discriminated against in any other way (or if the political environment shifts) on the basis of their sexual orientation.
Many of you may recall, as Eleveld notes, that "the nondiscrimination provision was bartered away in an effort to get more votes" for DADT repeal.
She adds:
President Obama could make all this go away with an executive order that categorically prohibits discrimination against gay service members. When I asked a White House spokesperson why the president would not issue that mandate, he said the DOD had developed "clear policy guidance" on the matter.
This appears to be yet one more issue we're going to have to make a whole lot of noise about.
DADT Discharges May End, But Discrimination Might Not [equality matters]
In related news, the four out gay members of Congress, with Rep. Gwen Moore (D-WI) are calling on the Pentagon to restore the benefits earned by military personnel who were discharged under 'DADT'.
Congresswoman Moore said, "Even after we have ceremoniously repealed 'Don't' Ask, Don't Tell' we know there are still consequences. For some gays and lesbians the policy might as well have been – don't ask, don't tell, don't provide veterans benefits they earned. We need to get rid of that silent part because we can't leave anyone behind as our nation moves forward.
Congressman Frank said, "While we cannot completely undo the injustice that has been done to gay and lesbian service members, we can at least diminish the harm they suffered by preserving the benefits they earned."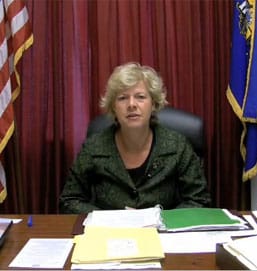 Congresswoman Baldwin said, "It's time to right a grievous wrong and fully recognize the military service of gay and lesbian Americans discharged under "Don't Ask, Don't Tell."  One way of recognizing their service is to allow them the benefits they rightly earned.  We cannot undo the injustice these former servicemembers have already suffered, but we can begin to serve them as honorably as they served our country."
Congressman Polis said, "All the men and women who wear the uniform of this country deserve not only our deepest respect, but also our unwavering support regardless of whether they are straight or gay.  Repealing DADT was an incredible victory for our nation and strengthens our armed forces, but the fight is not yet entirely over. As we fully implement the repeal of DADT, we must take action to ensure fair treatment for the many soldiers who, despite bravely serving our country, were discharged under this policy. They have earned it."
Congressman Cicilline said, "While the discriminatory DADT policy has been repealed, there are still soldiers who may suffer from lack of benefits due to a former dishonorable discharge.  The brave men and women defending our country abroad put their lives on the line so that we at home do not have to. These courageous servicemen and women deserve the benefits they rightly earned."