A Union City, NEw Jersey couple has been awarded $3.15 million by a jury over a 2007 dispute at Burger King which escalated into an anti-gay attack, the Jersey Journal reports.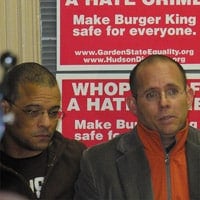 Casbar and Robichaux testified emotionally during the civil trial that began Feb. 7, saying the dispute with the person taking their order in the 2007 incident escalated and other Burger King workers became involved after they had already left the restaurant.
"The manager and a group of angry restaurant employees chased the couple and then mercilessly kicked, beat and spat upon the two men while screaming hate-filled anti-gay invectives," Fine said in a statement.
The couple alleged they were victims of a violent hate crime and brought the suit under New Jersey's Law Against Discrimination.
The jury rendered its verdict at 7 p.m. Wednesday and the award includes $1.7 in punitive damages. The $3.15 million must be paid by Food Service Properties Corp. and Union City Restaurant Corp. which own seven Burger Kings, including the one at 3501 Bergenline Ave. in Union City.
Two employees of the Burger King in question have pleaded guilty to aggravated assault related to the attack on the couple.
(image via out in jersey)