Not only did Hawaii legalize civil unions yesterday. Just prior to doing so, it confirmed Sabrina McKenna (below, left), an out lesbian, to the state's Supreme Court.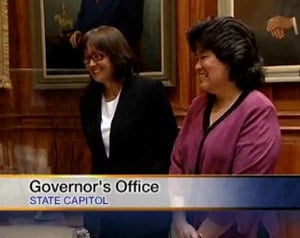 The AP reports: "The 53-year-old McKenna was a senior judge on Oahu's Family Court, and she's been a state judge in district and circuit court for 17 years. Previously, she was a private lawyer and law professor at the University of Hawaii. McKenna fills the vacancy created in September when Justice Mark Recktenwald was elevated to chief justice in September. When she takes office, it will be the first time in Hawaii's history that two women have sat on the five-member court at the same time."
HRC Backstory's Tony Wagner writes:
She becomes the first openly gay member of the Hawaii Supreme Court and the second out lesbian supreme court justice in the U.S.  The appointment to the position spans 10 years and will give McKenna the opportunity to make her mark on the bench.
Gov. Neil Abercrombie called the appointment the most important decision in his career, and said the "appointment sets the course for the state and its legal direction for the next several years.  I'm completely confident that Judge McKenna's appointment will be something I'm proud of for the rest of my life."  Judiciary Chair Clayton Hee, gave impassioned remarks on the floor of the Senate and his colleagues confirmed McKenna unanimously, including the sole Republican in the chamber, Sam Slom, who also spoke well of the nominee.
Wagner adds: "She is partnered to Denise Yamashiro and has three children between the ages of 8-14.  McKenna, born and raised in Japan, attended the University of Hawaii-Manoa for undergraduate studies and law school."