Indiana Republicans today will be renewing their drive for a constitutional amendment banning same-sex marriage, the AP reports: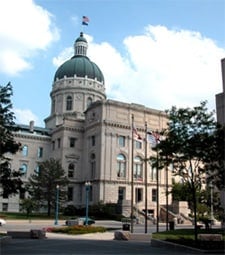 A legislative hearing is scheduled for Monday.
Opponents say the amendment isn't needed because Indiana law already bans gay marriage, but supporters worry that courts could overturn that law.
An amendment banning gay marriage passed the General Assembly in 2005 when Republicans controlled the House and Senate, but constitutional amendments must go through two separate Legislatures before being put to a public vote.
In 2006, Democrats won control of the House and the proposal never cleared that chamber.
Today, Republicans are more hopeful since they control both chambers of the legislature. The measure would have to pass again in 2013 or 2014 to be qualified for the ballot.