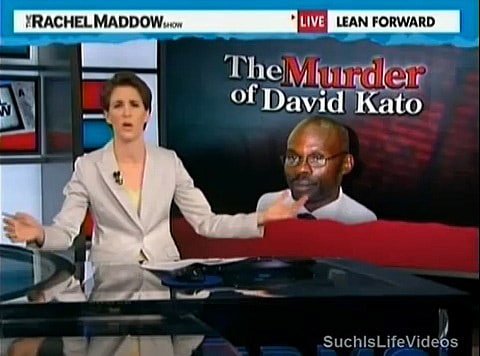 Maddow's segment on slain Ugandan LGBT activist David Kato aired on Friday night but we didn't get a chance to post over the weekend.
Watch, AFTER THE JUMP…
In related news, Ufanda's Daily Monitor reports that Kato's murder has caused Ugandan gays to slip further into the closet, and under the radar:
Musiime and Mukasa are both in their late 20s and have kept their orientation a secret from many for nearly a decade now. "You tell no one. Only gay people like you ever get to know, and even then, you watch which gay person gets to find out because they too could sell you out, accidentally or not," Musiime says. "The key is to ease into society as much as possible, behave like everyone else, even flirt with girls to portray the usual boy look," Musiime says.
Musiime then expounds on how he now has to rethink his security. "After Kato's death, something is triggered in you and even makes you think somebody you do not want to know already knows. Now I have to recheck my passwords – on my computer and phones so that no one accidentally runs into photos or any material that would raise suspicion. You fear that even if people would not kill you, you would lose the respect that those who don't know still have for you," he adds.