Following debate this morning, the Iowa House voted 63-37 to approve House joint Resolution 6, a constitutional amendment that would not only ban same-sex marriage, but civil unions and domestic partnerships as well.
One Iowa: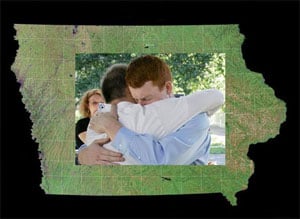 The bill now moves on to the Iowa Senate, where Senate Majority Leader Mike Gronstal has vowed to fight attempts to pass the amendment. If passed through both legislative bodies in two consecutive General Assemblies, the issue could be on the ballot as soon as 2013.
"The proposed amendment devalues families and divides Iowans," said One Iowa Executive Director Carolyn Jenison. "The Constitution is meant to protect the freedoms and liberties of all Iowans. It is inappropriate to use the political process to single out and deny a group of Iowans of their constitutional protections."
 Last night, hundreds packed the Iowa state house for a debate on the resolution. Listen to some of the testimony, both affirming and horrifying, here.
As One Iowa noted, Majority Leader Mike Gronstal has vowed to block any such amendment from getting a vote in the Senate, where Democrats hold a majority.
Republicans last month attempted to suspend Senate rules to force a vote on the measure.