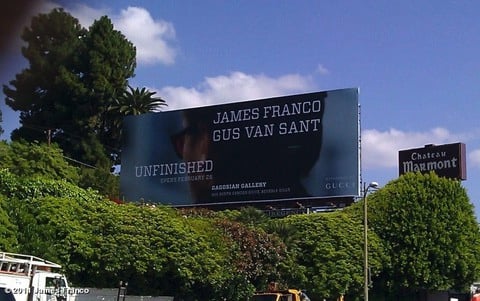 James Franco tweeted the above photo yesterday advertising a new art project he's involved in with Gus van Sant!
A release from the esteemed Gagosian Gallery states the exhibit, "Unfinished," will open Feb. 26 in Beverly Hills and run through April 9. The exhibit is basically a reworking of Van Sant's 1991 flick My Own Private Idaho, renamed Endless Idaho, done by Franco using behind the scenes and deleted footage. It is 12 hours long. 12.
What does this 12 hours include? Location scouting! Interviews with actual street hustlers! Keanu Reeves and River Phoenix improvising!
Exhausted yet? Well, wake up, because there is a second movie, My Own Private River! This is just shots of Phoenix (Sorry Keanu!), set to an original score by Michael Stipe.
The films are accompanied by eight works on paper done by Van Sant. While this is of course remarkable, and obviously time consuming, it seems like phoning it in next to Franco.
Here's the full press release.
Sounds like the gayest thing Franco's done to date.