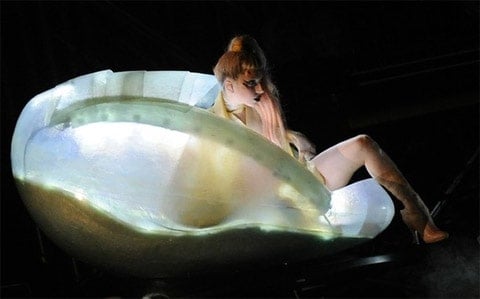 Hmm, wonder how she stayed looking so fresh?
Lady Gaga says she spent 72 hours inside of the egg before she hatched at the Grammys:
"I was in there for about 72 hours. It was a very creative experience…It was time for me to really prepare and think about the meaning of the song and get prepared for the performance. I really wanted to be born on stage. The creative vessel was helpful for me to stay focused. We had it backstage so that I was able to really stay in this sort of creative, embryonic incubation."
Gaga's choreographer Laurieann Gibson confirmed the claim:
"We made sure the Lady was not suffocating with an oxygen tank in there while incubating, checking her new DNA, which was producing this new race. This race does not give up and does not give in."
The LGBT anthem "Born This Way" just became Billboard's 1000th #1 single.
The arrival of "Born This Way" bests the previous debut record on Radio Songs, set when Janet Jackson's "All for You" soared in at No. 9 with 70 million in 2001.
With opening-week digital sales of 448,000, "Born This Way" likewise breaks barriers with the largest debut sum for a female artist. Britney Spears established the prior mark four weeks ago upon, the arrival of "Hold It Against Me" (411,000).
Gibson got more over the top in describing the upcoming video:
"I can't tell you, but I will tell you it is a life-changing experience…Well, actually it's a vessel. When Gaga played me the record, it took me quite some time to feel the direction and the inspiration, and when she played it for me two weeks later, I was like, 'I think I got it.' I said, 'We have to birth a new race, a race that cannot hate.' And, of course, as genius as she is, she runs with it."