Ari Ezra Waldman is a 2002 graduate of Harvard College and a 2005 graduate of Harvard Law School. After practicing in New York for five years and clerking at a federal appellate court in Washington, D.C., Ari is now on the faculty at California Western School of Law in San Diego, California. His research focuses on gay rights and the First Amendment. Ari will be writing weekly posts on law and various LGBT issues.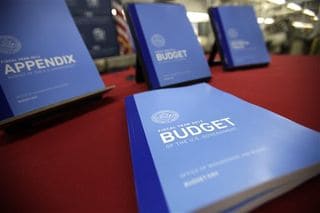 President Obama's budget dropped yesterday, with the White House hoping to take away some thunder from Arcade Fire, Lady Gaga and Congressional Republicans. I took advantage of a small lull in my academic work to read whatever I could about the proposed budget, including a neat little graphic and a series of pdfs outlining cuts, expenses, taxes and the President's selling strategy. Sifting through the politics of it all, a few things struck me:
No entitlement reform;
Cuts in the growth of defense spending, no cuts in defense spending;
The numbers are HUGE, just HUGE, scary;
The President honors his commitment and increases funding for domestic and global HIV/AIDS prevention and treatment;
President Obama is the first president to make funding incumbent upon evidence;
Budgeting is about choices;
Budgets are coercive… always.
President Obama has decided to leverage the coercive power of the state for a specific goal: the long term competitiveness of our economy. But, he has made some dubious assumptions about what will make us competitive. His budget also suggests that he believes the current debt is not our primary enemy, but one that can be vanquished as a result of other reforms. Many of us will disagree with his choices and his assumptions — and I will let that debate rage here, here and here — but one thing is certain, budgets are always coercive, no matter how you slice the pie. It is just a matter of what behavior we want to incentivize.
AFTER THE JUMP, a short discussion of coercion.
Libertarians likes to argue that a large welfare state is coercive. It forces citizens to submit to the state for resources and then uses its position of power to make people act a certain way. If the government does not want us drinking Four Loco, it bans it, passes a tax on it or attaches a tracking chip to every bottle and arrests sellers. If the government does not want us growing too much corn, it gives farmers subsidies to farm wheat or cultivate less land in certain years, passes a tax on corn growers or puts a label on every ear of corn that says that corn causes your testicles to shrink. There is even "soft coercion," like encouraging people to buy healthy foods by placing them at eye level in the supermarket. Granted, different proposals are coercive in different ways and to different degrees; but, most kinds of government expenditure is coercive in some way.
Tea Partiers dislike central mandates and coercion from the state. But, the GOP's budget — heavily influences by demands for cuts — is riddled with coercions of a different sort. Instead of encouraging investment in clean energy, Republican proposals would incentivize industrial use of coal and eliminate tax breaks for businesses that build clean technologies. Republican proposals would also eliminate funding for most abortions, coercing women into taking their pregnancies to term or, unfortunately and more likely, to dangerous back alley procedures. It's all coercion in some form.
In what way is President Obama's budget proposal coercive?
President Obama is the first president to propose a budget that makes funding incumbent upon evidence of success. His funding for HIV/AIDS treatment programs is clear evidence of that; the President has chosen the Ryan White Act drug treatment program — a highly effective program — for significant funding enhancements. As the always insightful (and fabulously named) Ezra Klein notes, the President wants money to be allocated not based on some formula, but on the basis of evidence that a given program will solve a given problem. You may be surprised to learn that we've never really done that. File this under "make better use of the money we have."
The President has also expanded the "Race to the Top" program as a way of reforming large social systems. Mr. Klein tells us how Race to the Top works: in the education arena, the Race to the Top "initiative ran a competitive grant program in which states needed to submit a reform plan, then pass it through their state legislatures, before they could qualify for cash. The money, essentially, was used to buy votes for a broader reform vision." What was so great about the Administration's plan is that even though only 12 states received grants, 40 states passed educational reforms — tougher teacher evaluations, end to bans on charter schools and common standards — that were the cornerstones of the President's education reforms. Race to the Top is now part of the budget for electric vehicle infrastructure, juvenile justice, cyberinnovation and a host of other areas where the carrot of federal money will not only advance the Administration's agenda, but send the money to where it will do the most (and the best) good.
This might strike libertarians as entirely too coercive. The Administration is dangling money in front of the states and businesses and will allocate that money only if the evidence of success or reforms are there. How is that any different than hitching funding to an organization that spouts a favored religious message? Well, it is very different. Funding programs based on facts, evidence of success and other objective factors — what about a high school teacher makes her students get better grades in college? – is qualitatively different than running a slush fund for your cronies.
But, they are both coercive. Fiscal policy is inherently coercive because it uses state power to change behavior. Increased spending and deep spending cuts are both coercive, especially when the expenditures and cuts are targeted toward particular categories of programs. President Obama has shown a willingness to cut programs his liberal allies like and direct money to programs that are objectively successful. He deserves credit for that statesman-like approach. When the Republican budget proposal comes out, do not be lulled into thinking its Tea Party-inspired plans are any less coercive. They will just be differently coercive.
What is the Constitutional basis for coercive budgets?
There is no Constitutional argument against passing a budget. Article I gives Congress — specifically, the House of Representatives — the power to originate all spending bills, and Congress as a whole has the power to lay and collect taxes, provide for the general welfare and common defense and appropriate monies necessary for anything from armies and navies to anything that might be necessary and proper to meet the needs of the American people. The scope of those provisions are subject to much debate, especially lately; but we can all agree that Congress has the power to pass budgets.
It is not at all clear to what extent that budget may be coercive. Part of the uproar over President Obama's healthcare reform package was that it used a tax to coerce people into buying health insurance. But is that any different than a rule that cuts your taxes when you marry, thus incentivizing marriage? Is it any different than a rule that taxes income over $40,000 at a higher rate than income between $20,000 and $40,000, thus disincentivizing an increase in marginal productivity over $40,000?
You might say, "Are you crazy? Did they teach you anything? Of course they're different. Obamacare forces you to do something. Tax policies let you do whatever you want and simply make one course of action better."
I agree, to a certain extent. The healthcare cases highlight the economic and Constitutional differences. But, technically, you do not have to buy health insurance. You can decline and pay a fine. And, you are free to work to $45,000 and just pay a higher marginal tax rate and take home less in your paycheck than if you stopped working at $40,000. It is an open question whether the Constitution countenances the difference.
Setting aside the legal argument, do you think there should be a legal or constitutional difference between these types of coercive policies?
Fiscal policy, to some varying degree, is always coercive. In fact, all social policy is. There are many reasons to criticize President Obama's budget — he ignore the Debt Commission; he declined to address entitlements; he invests too much money in roads — and there are responses to all those criticisms — he incorporated about 70% of the Debt Commission's recommendations; the President has different priorities and cannot begin to address entitlements without bipartisan interest in proceeding and compromising; investing in infrastructure will create jobs and help the jobless reach out and find new avenues of employment. But, do not let the Tea Party criticize the budget as too coercive. Every budget is coercive. Our debates should be about what behavior we want to incentivize.