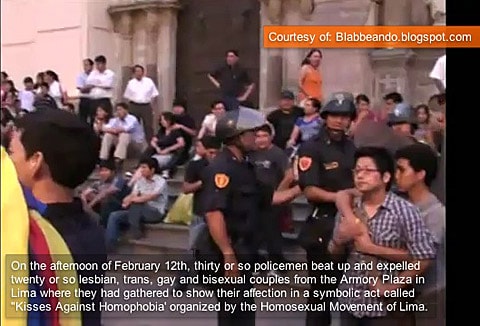 Police broke up and assaulted a group of approximately 15 gay activists who were holding a kiss-in on Saturday in the Plaza de Armas de Lima in front of the Cathedral of Lima, in Lima, Peru.
El Comercio reports (rough translation):
According to (fellow activist Mary) Vargas, an activist named Alicia Parra was injured when police caned her head and she needed ten stitches, while six others sustained bruises.
All of them have filed complaints against for police abuse, though many of them refused identification.
This was the third time the Mohl (El Movimiento Homosexual de Lima) organized its "Besos against homophobia", and the first in which the police used violence to disperse. There is currently is an open political debate in the country about the possibility of civil unions for homosexuals.
Watch video of the police dispersing the activists, AFTER THE JUMP…
UPDATE: Video with translation courtesy of Andrés Duques at Blabbeando.