Democratic Maryland State Senator James Brochin, who up until now had been against marriage equality, has completely changed his position. He'll now be one of the 21 state senators who support Maryland's marriage equality bill.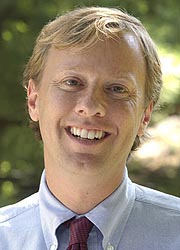 Brochin made the announcement during an appearance on a radio show on 630 WMAL:
"I'm not going to be a part of the vilification of gays on the senate floor…The people who are against the bill, all they did was demonize homosexuality, call them pedophiles, androids, and I just, I can't oppose the bill and be on the same side as people who would do that.I t's destructive, it's insulting to the same-sex families who are trying to raise their kids."
Before changing his mind, Brochin had supported civil unions for gay and lesbian couples. The state's marriage equality bill needs 24 votes to pass. Six state senators (all Democrats) are either undecided or have not publicly stated their position on the issue.
Testimony for and against marriage equality in Maryland has been in progress all week. We heard the wingnuts use human/robot marriage as a reason to not allow same-sex couples to marry. The week also saw Maggie Gallagher testify though NOM President Brian Brown wasn't very optimistic about her impact.
"Despite Maggie's powerful testimony, we know this committee today was stacked against us, and we expect the legislation to be on the Senate floor as early as next week."
Watch a short clip of her stale argument , AFTER THE JUMP.