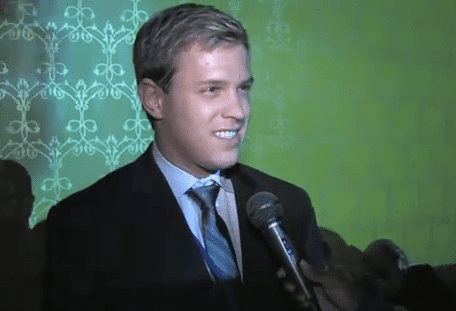 Ebone Bell of Metro Weekly made the rounds at a recent nighttime GOProud event at the CPAC conference where she interviewed members of the conservative group, such as 22-year-old college student Matt Hissey. Aside from declaring his dislike for gay people, Hissey believes that only "straight-acting" gay men are "normal."
"I don't really like gay people that much. Gay people frustrate me, the stereotypical gay people, it frustrates me…someone who puts on a total act. I understand that some guys are feminine, which is fine. But some guys, at some point, are normal, straight-acting, whatever and the next minute they're jumping up and down. It just frustrates me. The whole conservative thing is just be yourself, be an individual and just don't be someone you're not. If someone does or does not accept you, that's fine but don't change who you are to look different to others."
Hissey also wants Sarah Palin to run for president in 2012 because she reminds him of his mom.
His bit about not liking gay people comes in at 1:39 in the video AFTER THE JUMP.