A Hickory, North Carolina man called 911 to report that he had murdered his roommate Stephen Starr:
"Anderson is accused of shooting 36-year-old Starr with a shotgun and pistol and hitting him in the torso with an ax, said Capt. Joel Fish with the Catawba County Sheriff's Office. Anderson also carved a word into Starr's body, as well as writing on him with a pen."
Anderson first citing the fact that he had "OD'ed" on Mucinex as the reason for the killing.
Then, this came out: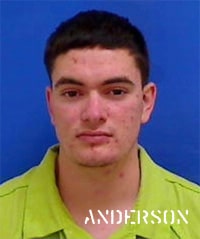 About 4 minutes and 30 seconds into the call, the telecommunicator asks what sparked the attack. Anderson said it was because he was straight, and Starr was gay. According to him, the two met at a gay club. Anderson said he was straight, but went to the club to experiment.
"I met him and went to his house and he took me in and I turned straight again. And he wanted to touch me and stuff and I wouldn't let him, and he kept trying. And I waited until he went to sleep and then I shot him three times. And I mutilated him very badly and I'm sorry, I'm sorry. Oh God, please help me."
Several times in the nearly 7-minute-long call, Anderson questions why he did it, saying, "I don't know what to do, I don't know what to do," and "oh Lord, I don't know why I did it."
Listen to the 911 call, AFTER THE JUMP…
(via phb)