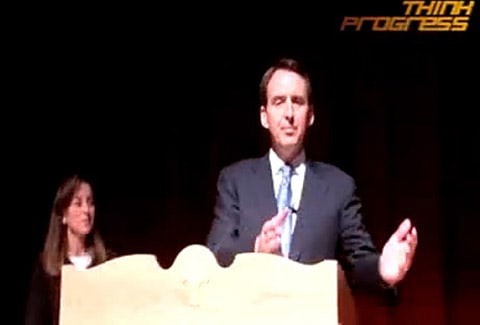 This afternoon in Pella, Iowa, Minnesota Governor Tim Pawlenty addressed approximately 100 people in Iowa at the Presidential Lecture Series for anti-gay group The Family Leader.
Pawlenty discussed his opposition to 'Don't Ask, Don't Tell'. You may recall that Pawlenty has expressed his desire to reinstate the ban on gays in the military. In Pella he went a bit further, telling Wonk Room's Igor Volsky it would be a "reasonable step" to rescind funding for 'DADT' repeal implementation.
Pawlenty also recently did an interview with Focus on the Family.
Good As You has the audio in which Pawlenty boasts about his anti-gay credentials. Says Pawlenty of equality for LGBT people: "I just don't buy it, sorry."
Watch, AFTER THE JUMP…