Portuguese model Renato Seabra pleaded not guilty in court yesterday to the grisly murder of journalist Carlos Castro in a midtown Manhattan hotel in early January.
DNA Info reports: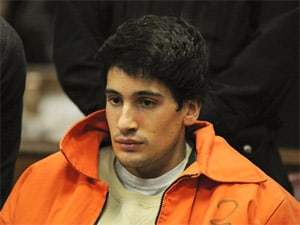 "Handcuffed and wearing a bright Department of Corrections jacket with sweatpants, Renato Seabra, 21, quietly entered the plea through a court-assigned Portuguese translator. Prosecutors announced his indictment on a single second-degree murder charge….Castro and Seabra was vacationing in New York together and had checked in to the InterContinental hotel on West 44th Street when the older man reportedly began to fear his young companion. There did not appear to be any family members or friends of Castro's at the proceeding. After the proceeding, Seabra's lawyer, David Touger, told reporters he planned 'a vigorous defense.' … 'I'm very optimistic there will be a successful result for Mr. Seabra,' he said, without elaborating."
Seabra reportedly mutilated Castro's genitals with a corkscrew in order to rid him of his homosexuality. He also stomped on Castro's head.
Following a memorial for Castro late last month, his relatives dumped the journalist's ashes down a Times Square subway grate.