You may recall the story of Peter de Vries and Timothy Carter, a gay couple formerly from Secaucus, New Jersey, who filed suit against that town claiming that they were harassed in an April 2004 incident by a group of firefighters who were partying at the firehouse adjacent to their residence. De Vries and Carter were awarded a $2.84 million settlement plus $2 million in legal fees.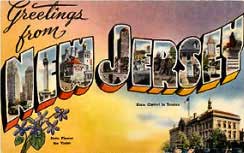 The firefighters were never charged with a crime and the civil verdict was based on the failure of town officials to respond to the complaints of harassment. However, firefighters signed an agreement to leave the department in 2008.
NorthJersey.com reports that last year 500 residents petitioned the council to reinstate them, but the council has decided they will not be rehired:
The council's decision to uphold the ban on the firefighters followed the recommendation of an outside attorney, Edward DePascale, who was hired last May to report on the implications of the firefighters' potential return.
Acting on the advice of Town Attorney Anthony V. D'Elia, the council did not give their reasons for continuing the ban, nor did they disclose the contents of DePascale's report.