Investigations are ongoing into an arson fire which burned down a gay couple's home in Clayton, North Carolina over the weekend. The gay couple had been subject to anti-gay harassment for over a year. 
WRAL reports: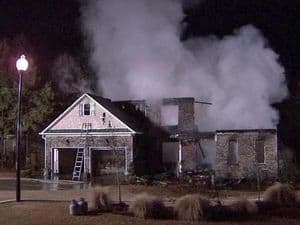 Sheriff Steve Bizzell told the station that as they continue to investigate the case, the status could change if evidence supports it being a hate crime. Other agents have joined the investigation including, the State Bureau of Investigation and federal Bureau of Alcohol, Tobacco, Firearms and Explosives.
A search warrant obtain by WRAL on Monday indicates that the blaze was set from within the home but does not states exactly how it started. The couple refused media requests for an interview, but neighbors said the men have been harassed on several occasions over the past year.
Bizzell would not comment on the arson investigation but did say his office was aware of two previous reports of harassment. An incident in December, involved a note in the mailbox saying "move sinners" and a second incident was in November involving a homophobic slur left on the back of the house.
Deputies said one was home when the fire broke out between 1:30 a.m. to 3:15 a.m. Friday. One of the neighbors called 911.
Authorities are searching for a Chevrolet S-10 pick-up truck that may have been used in the break-in and arson.