The Harvard Law Review has elected Mitchell Reich '12 as its 125th president, Harvard Law School reports: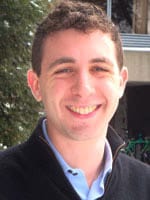 "Mitch has proven himself as an outstanding editor — insightful, hardworking, and deeply committed to the Review and its community," said outgoing President Zach Schauf '11. "He will make a superb president, and I look forward to seeing him guide the Review in the year ahead."
Before attending Harvard Law School, Reich graduated from Yale College with a B.A. in Classics and Political Science. He is a native of New York, and is the first openly gay editor elected to lead the Review.
According to HLS: "The Law Review, founded in 1887 by future Supreme Court Justice Louis D. Brandeis LL.B. 1887, is an entirely student-edited journal with the largest circulation of any law journal in the world.  It is published monthly from November through June."