The Washington Post reports on this week's  ".nxt" conference in San Francisco, a three-day affair featuring seminars on ICANN's complicated application guideline at which applicants for the next round of available domain suffixes will converge. The Internet Corporation for Assigned Names and Numbers, or ICANN, is the non-profit which decides who gets to control those suffixes.
It's certainly not without controversy: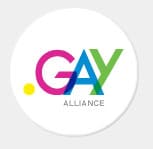 Lauren Weinstein, co-founder of People for Internet Responsibility, a grass-roots firm in Los Angeles, alleges that the new domains are designed purely to make money for ICANN and the companies that control the domains. The new Web addresses, he added, will only mean more aggravation for trademark holders and confusion for the average Internet user.
Peter Dengate Thrush, chair of the ICANN board of directors, argued that the high application fee is based on the nonprofit's bet that it's going to get sued, and to protect against cybersquatters or other organizations ill equipped to manage an entire domain of hundreds, if not thousands of Web sites. "Our job is to protect competition and give extra choices for consumers and entrepreneurs," Thrush said.
So far there are two listed applicants ("The price tag to apply is $185,000, a cost that ensures only well-financed organizations operate the domains and cuts out many smaller grass-roots organizations, developing countries or dreamers, according to critics.") for the .gay suffix.
One is the Dot-Gay Alliance, which I posted about in October 2009 and is headed up by former Star and Details editor Joe Dolce.
The organization explained on its website: "It's a community that gives back: 51% of all profits earned will be returned to the LGBT community in the form of grants to leading civil rights organizations. That means that everyone who owns a .GAY web address automatically contributes to the fight for LGBT equal rights in the US and around the world."

The other applicant is DotGayLLC. Its founder spoke to the WaPo:
Scott Seitz, the CEO of DotGay LLC, wants to build a universe of sites – he expects 300,000 initially – with addresses such as lawyers.gay, aids.gay, hotels.gay or communitycenter.gay. He has the backing of several prominent gays rights groups including Human Rights Campaign and the Gay & Lesbian Alliance Against Defamation (GLAAD).
Seitz, who is gay, said the simple idea of operating the domain devoted to the gay movement exerts its own pressures. "I have a responsibility, and I am in awe of that," said Seitz, adding that he and his business partners intend on donating two-thirds of their revenue to various social causes. "I buried 40 friends in 18 months [who died from complications related to HIV]. Having .gay is scary, it could be crazy. I've already told people to get steel doors and window bars for security to protect against anti-gay organizations that wouldn't want dot-gay to happen."
More at the Washington Post…
There's additional controversy brewing over a proposal from the United States that ICANN representatives from any nation be allowed to veto a  generic Top Level Domains (gTLDs) for any reason:
In other words, proposed domain endings such as .gay and .humanrights wouldn't have a chance if nations wishing to censor those topics from their citizens are allowed veto domain names.