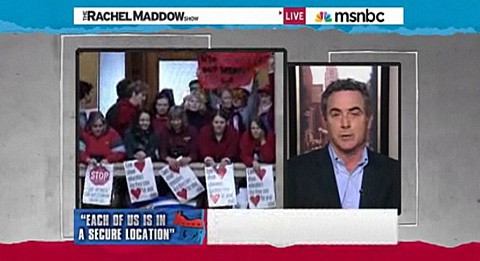 Wisconsin is in turmoil as legislation to restrict public workers' collective bargaining rights has sent thousands to the streets, and a group of Democratic senators to neighboring Illinois.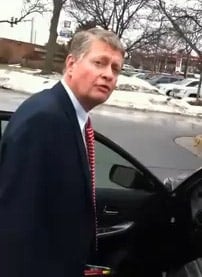 The Wisconsin State Journal:
In a last-ditch effort to stop the passage of Gov. Scott Walker's controversial budget repair bill by depriving the Senate of a quorum, all 14 Senate Democrats staged a walkout Thursday, leaving the state to avoid a forced return to the Capitol and a doomed vote against the bill.
The missing legislators traveled across the state line, spending at least part of the day at the Clock Tower Resort in Rockford, Ill. — far enough away that state troopers could not force them to return. They then spent the afternoon in a cat-and-mouse game with members of the media, sometimes speaking by cell phone but not revealing their locations.
Rachel Maddow explained that the situation is really about Republicans vs. Democrats ("This is an existential fight for the Democratic party"), and spoke with Senator Jon Erpenbach from an undisclosed location.
Watch her excellent report, AFTER THE JUMP….
Teabagger Governor Scott Walker says Wisconsin Republicans won't be "bullied" by the Democrats.
Expect this issue to get a whole lot bigger:
Even as Democratic lawmakers in Wisconsin fled their own state in an attempt to stall a vote in the Republican-controlled state senate, Mr. Obama decried the tactics of Mr. Walker as "an assault on unions."
That prompted House Speaker John Boehner to rip into Mr. Obama, accusing him of having "unleashed the Democratic National Committee to spread disinformation and confusion in Wisconsin."
Mr. Boehner, in a statement, praised Mr. Walker and other Republican governors for making the tough decisions to cut spending. And he chided the president for siding with the wrong side in the contentious Wisconsin debate.
The protests are spreading to Ohio…
And: "Arizona, Florida, Indiana, Iowa, Michigan, New Hampshire, New Jersey and New Mexico are among the two dozen other states considering narrower but substantial changes in how government treats its workforce."
Watch Maddow's report, and a YouTube clip of the Democratic senators getting harassed by a Tea Party supporter, AFTER THE JUMP…
Why is this happening? Rachel explains:
Visit msnbc.com for breaking news, world news, and news about the economy
Rachel's interview with Senator Jon Erpenbach:
Visit msnbc.com for breaking news, world news, and news about the economy
Maddow talks to Ed Schultz in Madison:
Visit msnbc.com for breaking news, world news, and news about the economy