Lawyers for American Idol have reportedly filed a motion to dismiss a lawsuit brought by former contestant Ian Benardo, the third Benardo has brought against the show, Adweek reports: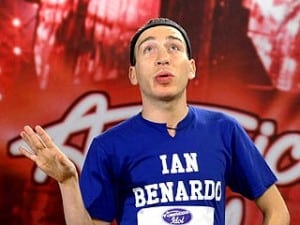 Benardo, 30…claimed in his January 2011 suit that producers directed him to act in a stereotypically effeminate way during his performance of "Gloria." He also says that he was repeatedly called "fag" and "homo," and that at one point a producer threatened to "shove this mic up your ass."
***
Mark Goldberg, the lawyer for American Idol, denies that the derogatory comments were ever made. But if they were, he says, they are nothing more than "few sporadic verbal slurs made on three separate and distinct occasions, each lasting only one to a few days, spread out over the course of four years." None of these slurs constitute harassment or discrimination, says Goldberg. Telling Benardo to "gay it up," he said in court papers, "is an act of acceptance and encouragement."
Benardo's previous suit was filed in July 2010.