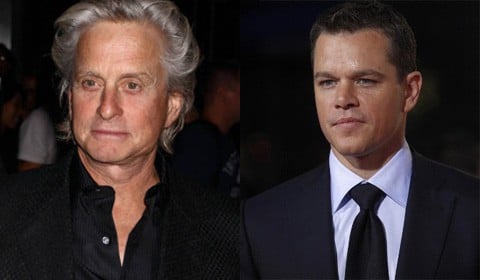 Matt Damon and Michael Douglas told E!'s Marc Malkin and Brett Malec that they're going to be locking lips more than once in the upcoming Liberace biopic directed by Steven Soderbergh:
"It's scripted that there's more than one," Damon revealed to us last night at the Hollywood premiere of My Way, the new HBO documentary about überproducer Jerry Weintraub.
Damon, who is set to play Liberace's much younger lover, added with a smile, "I never thought I would get to kiss Michael Douglas."
Shortly after the movie was announced, Douglas told me, "I just saw Matt…and I was teasing him," he said. "I was saying, 'Bring a lot of ChapStick, babe.' "
Previously…
Michael Douglas and Matt Damon to Play Lovers in Liberace Biopic [tr]