Anti-gay New York state senator Carl Kruger turned himself in to federal authorities this morning on corruption charges, the NY Post reports: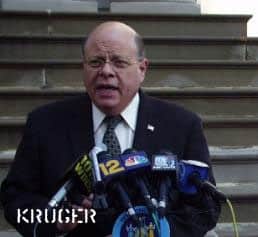 Kruger, flanked by his attorney Ben Brafman and two other men, turned himself in to the Jacob K. Javits Federal Building in Manhattan around 8:30 a.m. The senator, looking solemn and wearing a dark suit, walked silently into the building.
Brafman said he will be making a statement after the proceeding.
A teary-eyed Kruger around 6 a.m. left the Mill Basin home of Brooklyn Community Board 18 District Manager Dorothy Turano, where he regularly spends a lot of time, according to residents. When asked about the pending charges against him, he said, "I have no comment. My attorney will be releasing a statement later today." He then walked off with his head down.
After leaving the house, Kruger walked a few blocks over to a shopping center on Avenue U and was seen huddling outside a shuttered Mill Basin pharmacy for roughly 10 minutes until a black car arrived. Kruger got in and the car sped off.
The NYT adds: "Mr. Kruger had been under investigation by federal prosecutors in Brooklyn who were looking into accusations that he had helped businessmen surmount bureaucratic hurdles in exchange for assistance raising campaign money, but the charges stemmed from an investigation by Manhattan federal prosecutors and the Federal Bureau of Investigation. Others, including William F. Boyland Jr., a four-term Democratic state assemblyman from Brooklyn, and Richard Lipsky, a lobbyist, and two hospital executives, were also expected to face charges in the case, according to the people, who spoke on the condition of anonymity because the charges had not been made public.
Kruger is a reported closet case, and cast a vote against marriage equality last year when the bill came up.