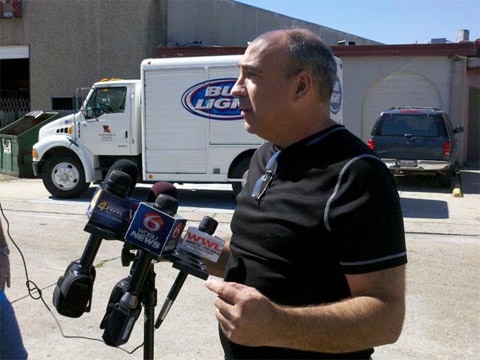 Anti-gay pastor Grant Storms, who was arrested yesterday for masturbating in a public park in front of children, held a press conference in which he was "tearful and apologetic", WDSU reports:
The Rev. Grant Storms called himself a "hypocrite" because of his Friday arrest on accusations of masturbating in a public park. Jefferson Parish Sheriff's deputies charged him with obscenity after two women claimed they saw him touching himself while watching children on the playground at Lafreniere Park.
Storms said in a news conference Tuesday that he was not watching the children, but he did have his hand in his pants. He apologized to those he has hurt, and he said he was sorry for targeting Decadence, an annual gay festival in the French Quarter.
According to WWL, "Storms told members of the media he is no longer connected with the church that once staged the protests against Southern Decadence, now running a lawn care business."
Storms said he was seeking help for a problem stemming from pornography, and said he was looking at some online about an hour before he went to the park to look at the children.
Previously…
Anti-Gay Pastor Grant Storms Arrested for Masturbating in Public Park in Front of Children [tr]