New York magazine's Vulture asked Oscar writer and comedy veteran Bruce Vilanch to comment on James Franco's widely-panned Oscar performance, and Franco wasn't happy with what Vilanch had to say, tweeting out a photo which he deleted shortly thereafter, but not before folks had taken notice.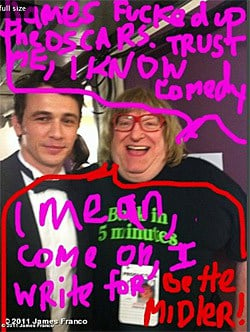 Said Vilanch of the rumor that Franco was under the influence of marijuana:
No, he wasn't high. I was with him, and he wasn't high. And I asked him, 'Are you high, and can I have some?' And he said no to both."
Vilanch also suggested that perhaps the Oscars were out of Franco's comfort zone, or that he had too much going on.
"He has so many balls in the air, he didn't get to town till Thursday before the show on Sunday. And so we e-mailed a lot. But we had a lot of meetings. He had a bunch of people who were writing for him, and if it had been him alone, it would have been different. But it was him and Anne Hathaway, and they both had to be serviced. So there was a lot of communication beforehand. But he didn't get there…I don't think he realized how big a deal it is to do it until he was actually confronted with it. I think he thought he would kind of … I don't know what he thought. I thought maybe it was a performance-art prank, and then I realized he sincerely wanted to do it. But it's outside of those guys' comfort zones. The only people who know how to host those shows are people who get up onstage every night and say, 'Good evening, ladies and gentlemen. A funny thing happened … ' Or people like Bette [Midler] who get up and sing all night and tell stories."
Franco's tweet (right, via Gawker) mocked Vilanch, and the Divine Miss M.