Earlier this week, The Huffington Post published an interview with former Louisiana governor and two-time divorcée Buddy Roemer who said that though he was okay with individual states sanctioning marriage equality, he was personally opposed to the idea. Roemer followed up his interview with an email to HuffPost, further reiterating his stance.
W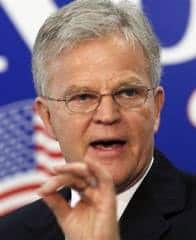 rites Roemer: "The issue of gay marriage is one on which I am clear. As I said in the interview, I am a traditionalist on this issue as is my Methodist Church. A marriage is between a man and a woman. Gays will not be slandered by me or my church, but gay marriage is not an option."
Roemer, who is emerging as an underdog candidate for the presidency in 2012, also stated that if he were elected to the highest office in the land, he would order the Justice Department to enforce DOMA: "The Defense of Marriage Act, with which I agree, prohibits the Federal Government from recognizing any marriage not between a man and a woman. Each state has the right to set these boundaries within its state, and I would stand with the traditionalists in my state and prohibit gay marriage."
Politico has described Roemer as a "former Democratic member of Congress who switched to the GOP in 1991, midway through his single term as governor, Roemer has been largely absent from politics since consecutive failed gubernatorial runs. In Louisiana circles, he is a onetime political wunderkind who is remembered more for what he might have been than what he accomplished."