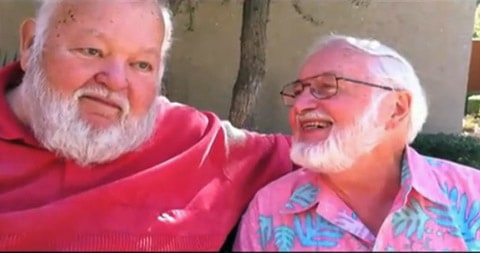 Ed and Derence have been together for 40 years and Ed is facing an Alzheimer's diagnosis.
Writes Ed: "…If the courts drag this out for months and months, I fear I will, God forbid, lose the ability to recognize my beloved Derence when he gets on his knee to propose to me."
The couple submitted their story to the Courage Campaign during a call for stories following the California Supreme Court's decision to take the question from the 9th Circuit and extend the federal Prop 8 case for many more months.
Just heartbreaking.
Watch, AFTER THE JUMP…
And sign their open letter to the 9th Circuit asking it to lift the stay and allow same-sex marriage to resume in California here.