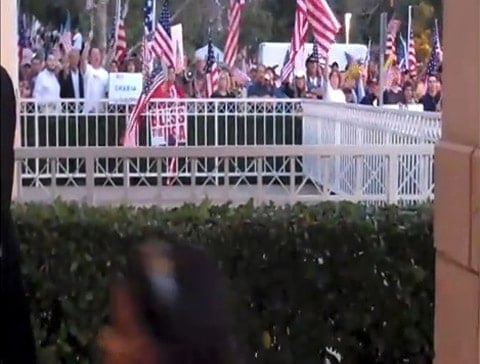 Here's a really disturbing video that's making the rounds today. It's of a fundraiser held by the Orange County chapter of the Islamic Circle of North America (ICNA) to raise money for a womens' shelter and for services for the homeless in Southern California.
Salon's Glenn Greenwald writes, of the video:
"Tea Party members and other protesters bombarded (the) charity event…and the families of American Muslims entering the event — with the most foul, hateful, threatening messages possible, while various politicians, including a member of Congress, praised the protesters."
Think Progress has more on the video.
Greenwald adds: "I think what was most striking about that video is that the presence of small children didn't give these anti-Muslim protesters even momentary pause; they just continued screeching their ugly invective while staring at 4-year-olds walking with their parents.  People like that are so overflowing with hatred and resentments that the place where their humanity — their soul — is supposed to be has been drowned. "
Watch, AFTER THE JUMP…