Americablog reports that an attorney in Edie Windsor's challenge to DOMA in the state of New York received a copy of an order given to House Speaker John Boehner giving Congress until April 18 to intervene in that case.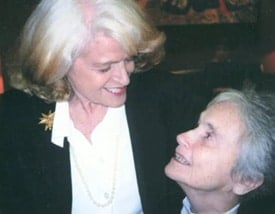 ORDER that: 1) Congress, should it wish to intervene in this matter, shall do so by April 18, 2011 by motion pursuant to Fed. R. Civ. Pro. 24(a), consistent with 28 U.S.C. §530D; and 2) Counsel for the plaintiff, the Department of Justice, and any Congressional intervenor shall appear on May 9, 2011 at 9:30 am for a conference with the Court to discuss how this case should proceed in light of the President's decision, as announced by the Attorney General on February 23, 2011, that Section 3 of the Defense of Marriage Act ("DOMA"), 1 U.S.C. § 7 as applied to same-sex couples who are legally married under state law, violates the equal protection component of the Fifth Amendment. SO ORDERED. (Status Conference set for 5/9/2011 at 09:30 AM before Magistrate Judge James C. Francis) (Signed by Magistrate Judge James C. Francis on 3/15/2011) (lnl)
Watch a great clip on Edie Windsor's case, AFTER THE JUMP…
A press conference is scheduled for today at which legislation to repeal DOMA will be re-introduced. Windsor will be present.
Boehner recently announced that the House would defend DOMA in court.
Game on.
Recent DOMA developments…
Bill to Repeal DOMA to be Reintroduced in House on Wednesday [tr]
Boehner Announces House Will Defend DOMA in Court [tr]
DOMA: Defending the Indefensible [tr]
Immigration Equality Prepping Binational DOMA Case [tr]
DOMA: The Ripple Effects of Heightened Scrutiny [tr]