A set of slides detailing the Army's training guidelines on "Don't Ask, Don't Tell" repeal implementation was posted by the Huffington Post's Andrea Stone yesterday.
Writes Stone: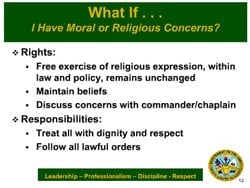 Among the "guiding principles" laid out in the Army slides: "standards of conduct apply to everyone regardless of sexual orientation," soldiers should "treat each other with dignity and respect" and "there is no expectation to change religious or moral views."
The document also notes that the Defense of Marriage Act, which Democrats in Congress launched a campaign to overturn on Wednesday, will still bar soldiers in legally sanctioned same-sex marriages from receiving spousal medical, housing and other benefits taken for granted by straight service members."
'DADT' repeal advocates said that the guidelines appeared to be in line with those produced by other military branches.
Read the slide show, AFTER THE JUMP…