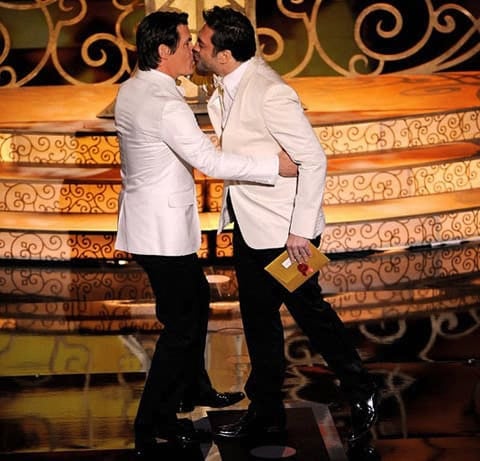 Josh Brolin and Javier Bardem exchanged a playful kiss and danced at the Oscars but viewers never saw the kiss and producers quickly cut away from the dance, which is a shame because the producers clearly needed something in the telecast that was entertaining.
AfterElton's Michael Jensen wonders why it was censored:
"Viewers saw the two men walk out onto stage where they engaged in an apparently impromptu dance, though viewers only saw a flash of that before the camera jumped to an extended shot of Penelope Cruz…So why the cut away? On one hand, it seems unlikely that ABC would find a kiss between Bardem and Brolin to be something needing to be censored. After all, back in 2006, the Oscar telecast included a Brokeback Mountain spoof featuring Jon Stewart and George Clooney in bed. On the other hand, the cutaway to Cruz seemed awkward and clearly lasted until the two men had stopped dancing. Frankly, it's hard not to wonder if it might not have something to do with the Adam Lambert imbroglio from the American Music Awards."
ABC told AfterElton it would have no comment on the issue.
FLASHBACK: Brolin and Bardem have a tradition of getting affectionate and playful on Oscar night.
(dance photo source, kiss photo source)