Designer John Galliano has been fired from Christian Dior over his anti-Semitic remarks, WWD reports: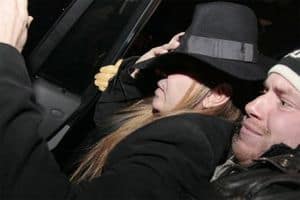 In a brief statement, Dior said because of the "odious behavior" of Galliano portrayed in a video circulated Monday, Dior has sidelined him and initiated proceedings to fire him.
Sidney Toledano, Dior's president and chief executive officer, said, "I condemn most firmly the statements made by John Galliano which are a total contradiction with the essential values that have always been defended by the House of Christian Dior."
This morning, Dior face Natalie Portman released a statement condemning the designer.
According to WWD, "Galliano joined Dior in 1996 after one year as couturier at Givenchy. Galliano also has a signature brand that is controlled by Dior and spans designer clothing, jeanswear, children's wear and accessories."
Previously…
Watch: John Galliano Mobbed at Paris Court, Condemed by Portman [tr]
Watch: Dior Designer John Galliano Proclaims 'I Love Hitler' [tr]
Galliano Files Defamation Lawsuit Against Couple He is Accused of Attacking [tr]
Dior Designer John Galliano Arrested in Paris for Drunken, Anti-Semitic Assault [tr]