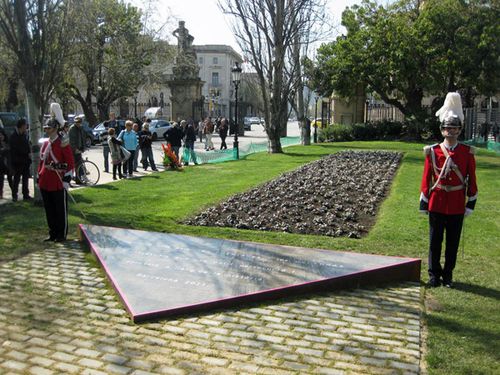 Story and Photos by WILL SHANK

Will Shank lived many years in San Francisco, where his day job was head of conservation at the San Francisco Museum of Modern Art, and he is widely published on matters of culture, art and how to take care of it. He married his husband, American sculptor U.B. Morgan, in Barcelona, where the couple and their daughter Anastasia have lived since 2006.
You can visit him online at WillShank.com.
On Sunday morning, March 20, Mayor Jordi Hereu of Barcelona dedicated a granite triangle framed in pink in the city's central Ciutadella Park. The location was a compromise after the Roman Catholic church raised a ruckus over the proposed installation of the memorial in the immediate vicinity of Antoní Gaudi's famed Basilica of the Sagrada Familia, which is also the city's number one tourist attraction.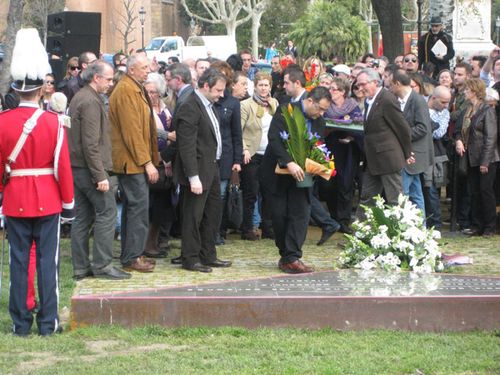 In a dignified ceremony under sunny skies in front of hundreds of supporters, the mayor spoke of the history of Barcelona as a haven for persecuted groups and individuals, and for the city's respect for gay, lesbian, bisexual and transgendered people.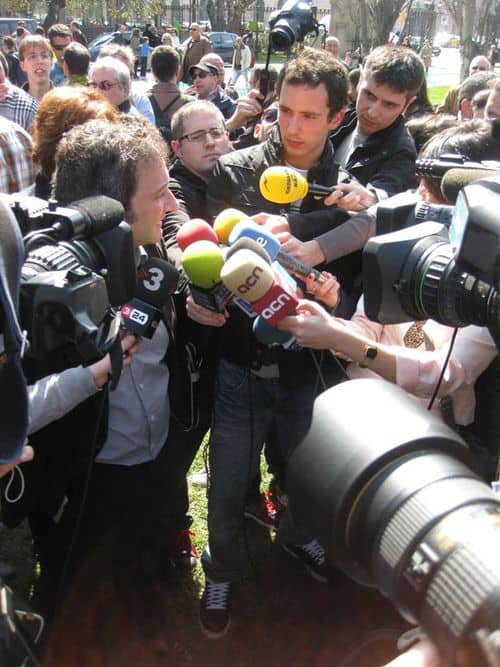 Hereu, speaking to members of the press.
Only Amsterdam has a similar such visible statement, literally carved in stone, among gay-friendly European cities.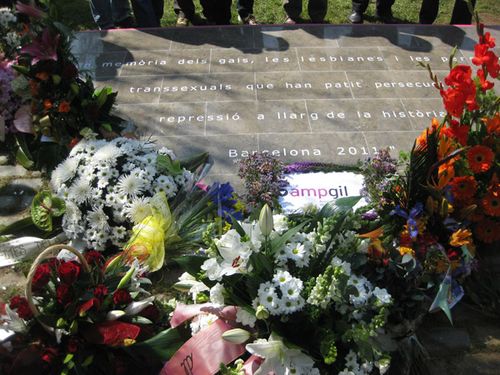 The triangular slab slants slightly upward toward the observer, with an inscription in Catalan that reads, "In memory of the gays, lesbians and transexual persons who have suffered persecution and repression throughout history, Barcelona 2011."
After the ceremony, which featured show tunes in several languages from the local gay men's chorus, (all dressed in black except for their boas, in one ABBA number), local GLBT groups left bunches of flowers around the monument, whose resemblance to a tombstone was hardly coincidental.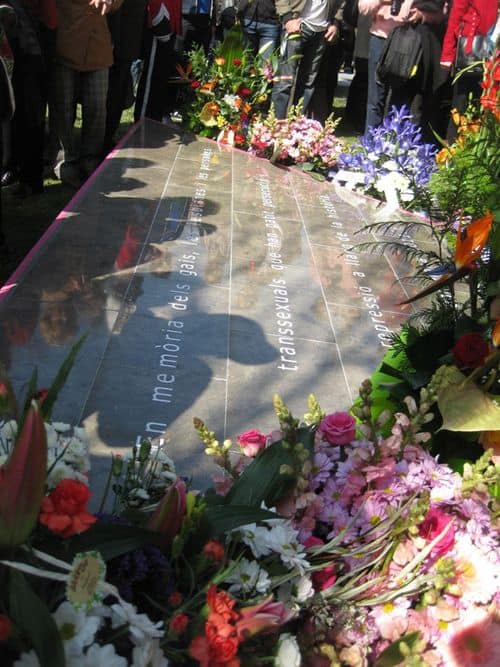 Correction:  The author inadvertently overlooked the many European monuments to the queer victims of the holocaust in Europe in Berlin, Frankfurt, the Hague, and in several other European cities, as well as the sites of concentration camps.  Thanks to all of the sharp readers who pointed them out!