The Dutch Defence Ministry has announced its official participation in Amsterdam's Gay Pride Canal Parade for the first time, as the result of work by an LGBT military advocacy group, Radio Netherlands Worldwide reports: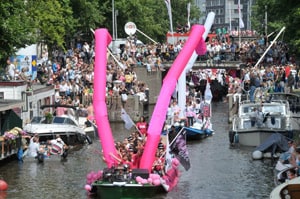 Gay and lesbian members of the Dutch armed forces dressed in uniform, with the ministry's official 'blessing', will join the Saturday-afternoon parade – through some of the Dutch capital's world famous canals - on their own special boat.
***
The parade's organisers and the military gays organisation have both welcomed the news. They say officially sanctioned participation is a huge step forward in the social acceptance of gay and lesbian people in the armed forces. Two years ago, gay soldiers were not allowed to join the event. Last year they were granted permission to do so but only on a individual basis.
The parade takes place on August 6 as part of that city's Pride festivities.