This Tuesday, anti-gay bigots plan a rally against same-sex marriage at the Iowa Capitol. They'll have some special guests, the Des Moines Register reports: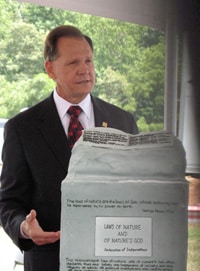 The marriage rally is set for 11:30 a.m. on the west steps of the building, according to Bob Vander Plaats of the Family Leader, a social conservative advocacy group.
One guest will be Roy Moore, the chief justice of the Alabama Supreme Court who defied an order from a federal judge to remove a monument of the Ten Commandments from the inside the state's judicial building. Alabama's court of the judiciary unanimously removed Moore in 2003 for placing himself above the law.
Moore, a Republican who believes that God is the sovereign source of the country's laws, has visited Iowa several times in recent months, making appearances with U.S. Rep. Steve King, R-Iowa, and state Sen. Kent Sorenson, R-Indianola.
Other guests at the rally are the Rev. Keith Ratliff, pastor at Maple Street Missionary Baptist Church in Des Moines, and the Rev. Cary Gordon, a Sioux City pastor who urged Iowa voters to oust the three justices who were up for a retention last fall.
The NYT profiled  Vander Plaats in a story published today.