Marc Jacobs International's former CFO and COO is suing the company from which he was fired: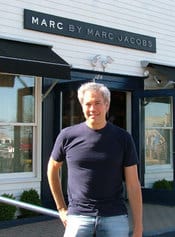 [President Robert] Duffy (pictured), who's Jacobs' longtime business partner, "uses company funds for personal expenses and does not censor what he does or says," former chief operating officer Patrice Lataillade says in his suit, which charges Duffy with having created a "discriminatory environment" at the company.
"Examples of Duffy's conduct which created a hostile work environment include his displaying gay pornography in the office and requiring employees to look at it; his production and dissemination of a book which includes photos of MJI staff in sexual positions or nude; [and] his requirement that an MJI store employee perform a pole dance for him," the suit says.
Lataillade said he stood up to Duffy's underlings, and was fired from his $1 million-a-year job in retaliation.
In a statement, the company blasted the allegations as "false," and that Lataillade was canned "for serious matters unrelated to the allegations contained in the complaint."
More at the NY Post…