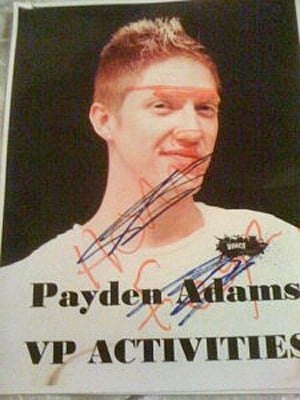 Payden Adams, a gay candidate for student government at the Southern University of Utah is being targeted by a homophobic vandal, Q Salt Lake reports:
He is the first openly-gay candidate running for a position on the Student Association Executive Council at SUU. The voting is Tuesday and Wednesday. However, Adams has been facing vandalism since the campaign began.
The vandalism started early in the campaign said SUU's Queer-Straight Alliance President Benjamin Smith. At first a few posters and fliers were shredded and taken down. But when vandalized posters were found on Sunday with the words, "Fag" and "Homo" written in red ink, the vandals had gone way too far, Smith said.
Police have been notified:
SUU Police Chief Rick Brown said he was made aware of the incident, but was awaiting more information before investigating.
Brown said the incident would be treated as a criminal mischief case if someone is arrested. Upon hearing the alleged victim of the vandalism was gay, Brown said that would bring in a separate case against the suspect for a hate crime.
"It wasn't brought to my attention that someone was targeted for his sexual orientation, but if that is the case when I receive more detail, it would be considered a hate crime," he said. "We would look at the severity of the case and see if that is a different charge."
Adams says he is undeterred by the attacks.