The NYT reports on the rumblings: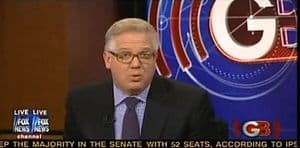 Were Mr. Beck to set off on his own, it would be a landmark moment for the media industry, reflecting a shift in the balance of power between media institutions and the personal brands of people they employ.
***
Asked on Tuesday whether Fox News intends to renew his contract, a Fox spokeswoman said, "it's not up until December" and declined to comment further.
Mr. Beck declined an interview request about his future plans, but through a spokesman, he provided a statement. "Roger Ailes has built the most important voice in America today — Fox News — and it is an honor to do my show there every night," he stated. "I have no intention whatsoever of doing the show I am doing now on Fox anywhere else."
Mr. Beck has been contemplating a cable channel of his own for more than a year, according to the people who have spoken with him about it, who spoke on condition of anonymity. Mr. Beck may not be able to actively pursue such an arrangement until his Fox contract is up.