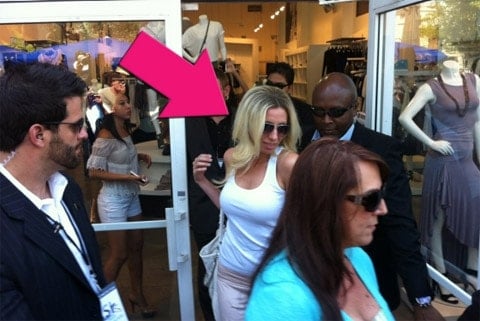 Last weekend, a Lady Gaga impersonator whipped up a frenzy in Miami Beach while the real Gaga was celebrating her birthday in Vegas.
New York magazine posted a photo (above) sent out by the Guess boutique, which apparently couldn't tell the difference.
"It remains unclear if this alleged Lady Gaga went out looking like a normal American girl in an attempt to disguise herself and throw off her mobs of rabid fans, who, Guess says, were kept under control by five security guards while the store was shut down so that this normal-looking "Lady Gaga" could shop."
The NY Post's Page Six reported on the brouhaha:
The imposter rolled up to Big Pink restaurant with four SUVs and a security detail of 10. Once her security did a sweep, the blonde look-alike enjoyed breakfast. The poor man's Gaga then caused chaos at French Connection in South Beach, where, a spy said, "Salespeople flocked to assist her, even helping her try on clothes for 30 minutes. She was swarmed by fans screaming 'Happy Birthday!' " And Guess rep Alina Hauptman sent a breathless press release complete with a photo of faux Gaga at their Lincoln Road store, saying, "The crowd was getting so out of control that security needed to shut down the store so Lady Gaga could browse . . . [she] purchased the Lucy Lace Skirt."
My friend Bradley Carlson posted photos on Facebook of "Gaga" posing with fans at the Big Pink as her bodyguards looked on. Apparently she was telling everyone she was the real Gaga.
So who is she? 
The Miami New Times reveals that she is Amy N. Evans, a singer who has performed at the Evangelical Christian megachurch Calvary Chapel in Fort Lauderdale, and the security firm was conducting a "training exercise".
"The girl that we used really does draw attention. You guys saw that on Sunday," says Bill Ferrell, president of ASI Consultants & Associates. "But at no time ever, ever, ever have we tried to portray her as Lady Gaga."
But this isn't the first time that Evans has been mistaken for Gaga. When it happened at a mall last year in Palm Beach Gardens, ASI bodyguards allegedly told people that Evans was, in fact, Gaga.
At the time, Ferrell apologized for the confusion.
I'm sure the real Gaga would be interested in the fact that she is being impersonated by a Christian wingnut and worship leader at an Evangelical megachurch.
Watch Evans perform at Fort Lauderdale's Calvary Chapel, AFTER THE JUMP…